So today in this post we will update you on Kaiju No. 8 Chapter 33 where we will discuss its release date, leaked raw scans, spoilers and we will also tell you about the official ways to read the chapter as soon as it is available in your country.
The Kaiju No. 8 chapter 32 showed us what we all feared. Kafka now has revealed his Kaiju form in front of his fellow officers and his dream of fighting alongside Mina and others might as well be over now It was really sad to see heartbroken Mina was when she pointed the gun towards Kafka, Hoshina couldn't even match eyes with him. Meanwhile, Shinomiya and Ichikawa are totally broken after this incident. It will be interesting to see how the story will forward from now.
Kaiju No. 8 Chapter 33 Release Date, Time, Countdown
According to Viz schedule, Kaiju No. 8 chapter 33 is set to release on May 13, 2021, JST. The chapter was originally supposed to release on April 29th but was delayed due to Golden Week Holidays and the author's usual break. The chapter title hasn't been announced yet.
Release time:
As for our international audience, the English translations for the latest chapter will be available at the following date and time in these regions:
Pacific Time: 9 AM on Thursday

Central Time: 11 AM on Thursday

Eastern Time: 12 noon on Thursday

British Time: 5 PM on Thursday




Is Kaiju No. 8 on break this week?

Yes, the Kaiju No. 8 manga is on break this week and there will be a three-week gap between the next chapter release. The break is due to Golden Week Holidays which begins from April 29th, the exact day when the next chapter was released. Thereafter is the author's usual break which he takes after every three chapter.

Kaiju No. 8 Chapter 33 Raw and Spoilers: What will happen in the next chapter?

There are two ways the manga can go from on. First, one where Kafka will go through trials and investigation by the Higher Officials of the Defence Corp. Hoshina, Ichikawa and Shinomiya will interfere in Kafka's favour and reveal that he has been never hurt anyone yet and can be used as a valuable asset for the force and learning more about the Kaiju's biology and their objectives.




Second is where Kafka will be ordered to be executed being a Kaiju, the enemies of humanity. Hoshina, Ichikawa and Shinomiya will come to his rescue and help him escape the confinement.

Kaiju No. 8 and Shinomiya

As always I another big news for you all. The Kaiju No. 8 manga now has officially reached 1.2 million copies in circulation, including both print and digital, with volume 2 scheduled to release on March 8. This is a huge achievement for Kaiju No. 8 and it is the first-ever manga to do so. The third volume is scheduled to release in July 2021. The series also has reached 100 Million views on the ShonenJump+ website.




As for the raw scans, the series is currently published in Shueisha's ShonenJump+ service, which is an online manga delivery service and chapters are only published digitally. Since raw scans are not legal and they are leaked by the people using the print copy. So there is very slim chances of the release of Kaiju No. 8 raw scans.
Where to read online?
You can read the ch. 33 through VIZ's official website and Shueisha's Mangaplus service for free. Besides that, you can download Viz's ShonenJump app or Mangaplus app on your smartphones. Both of them are available on the Play Store and Apple's App Store. Also, Mangaplus offers its chapters in Espanol/ Spanish.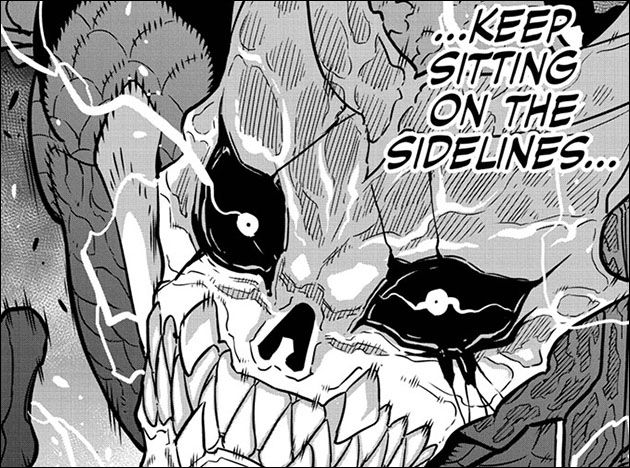 The website offers the first and latest three chapters for free and the rest accessible without a Shonen Jump membership which costs about $2 a month.
Moreover VIZ has announced that they have licensed the English release and the first volume is scheduled for Fall 2021.
More About Kaiju No. 8/ Monster #8
Monster #8 / Kaiju No.8 is a new weekly scheduled manga written by Naoya Matsumoto and publishes under Shueisha's online manga portal ShonenJump+.
The story revolves around Kafka Hibino, the protagonist, unhappy with his job, but one day, he has become a Kaiju (a monstrous creature), which gives him a new chance to achieve his dreams.
Well, that's all we have on Kaiju No. Chapter 33. We will keep you updated on any new information related to it. Meanwhile, also check out how many episodes will Osamake and Miss Nagatoro anime will have.